Making Liquor Marts Safe and Welcoming Again
In 2019, a dramatic increase in brazen thefts and robberies in many Liquor Mart locations reached a breaking point, causing major safety concerns for customers and employees, becoming a significant burden on police services, and costing Manitobans.
Controlled entrances were introduced the following year, resulting in a major reduction in thefts and robberies.
We pride ourselves on unmatched customer service and a welcoming shopping experience. While controlled entrances introduce the inconvenience of showing identification before entering, the results are clear. Manitobans once again enjoy a safe environment in which to shop and work.
We look forward to welcoming you at your local Liquor Mart where you can expect the same great customer service you have always known.
What is a Controlled Entrance?
After entering the first set of doors at a Liquor Mart, customers must provide valid photo identification to our staff before being admitted through the second set of sealed doors.
We'll ask you to remove sunglasses or anything else that may be covering your face and making it difficult to confirm you match the person pictured on the ID.
Not all forms of ID are accepted, and our staff cannot make exceptions, sorry. Be sure to check the list of acceptable ID below.
We scan ID and keep the customer's photo, name and birthdate secured on file for 21 days. This information is only accessed if there is an incident requiring investigation, and is not sold or used for marketing purposes.
Your ID may be flagged and you may be denied entry if you have been involved in an incident at one of our locations (including but not limited to violence, assault, destruction of property, fraud, theft, robbery), or if the ID you present has been reported as lost or stolen.
Customers may bring minors 11 and under in their care into the store. Minors do not require ID. They cannot touch or handle products while in the store.
At those stores with a controlled entrance, the inner doors to the Liquor Mart are locked. Before being allowed entry, customers must provide valid photo identification to the security guard on duty. The ID is scanned, and information is retained for 21 days. Customers may bring minors 11 and under in their care into the store. Minors do not require ID.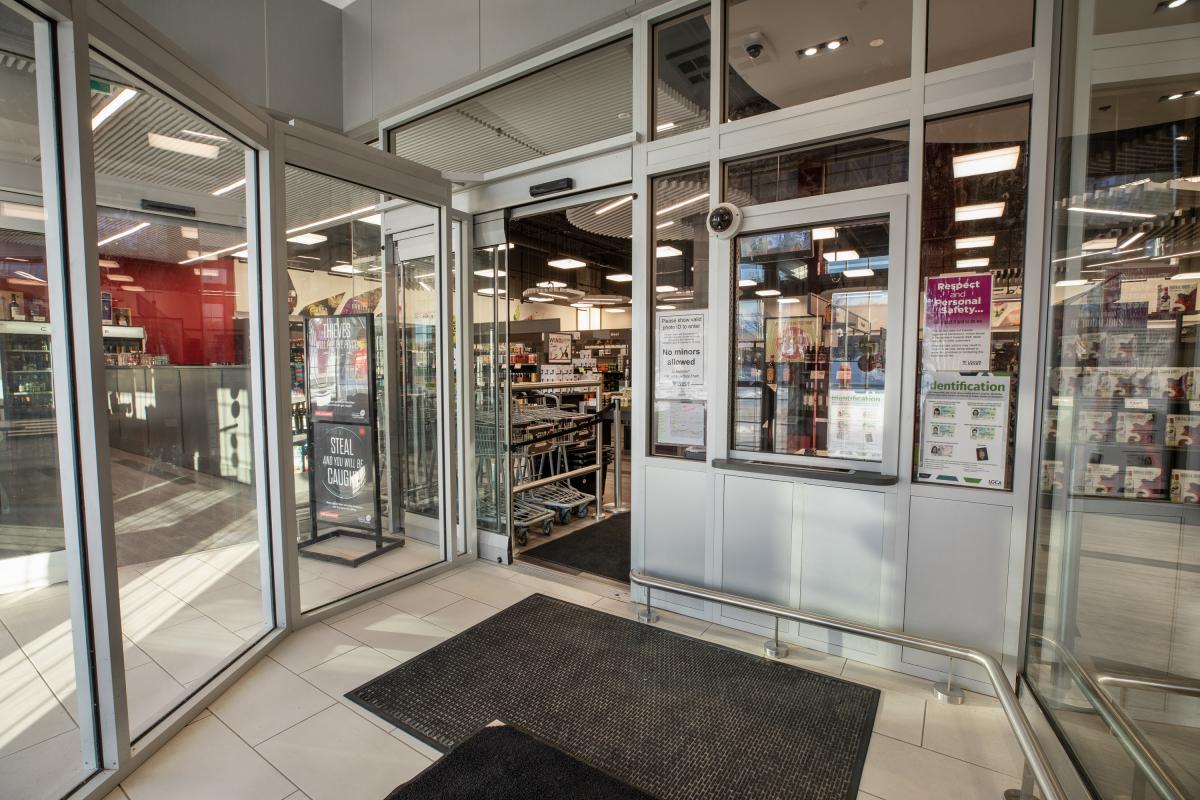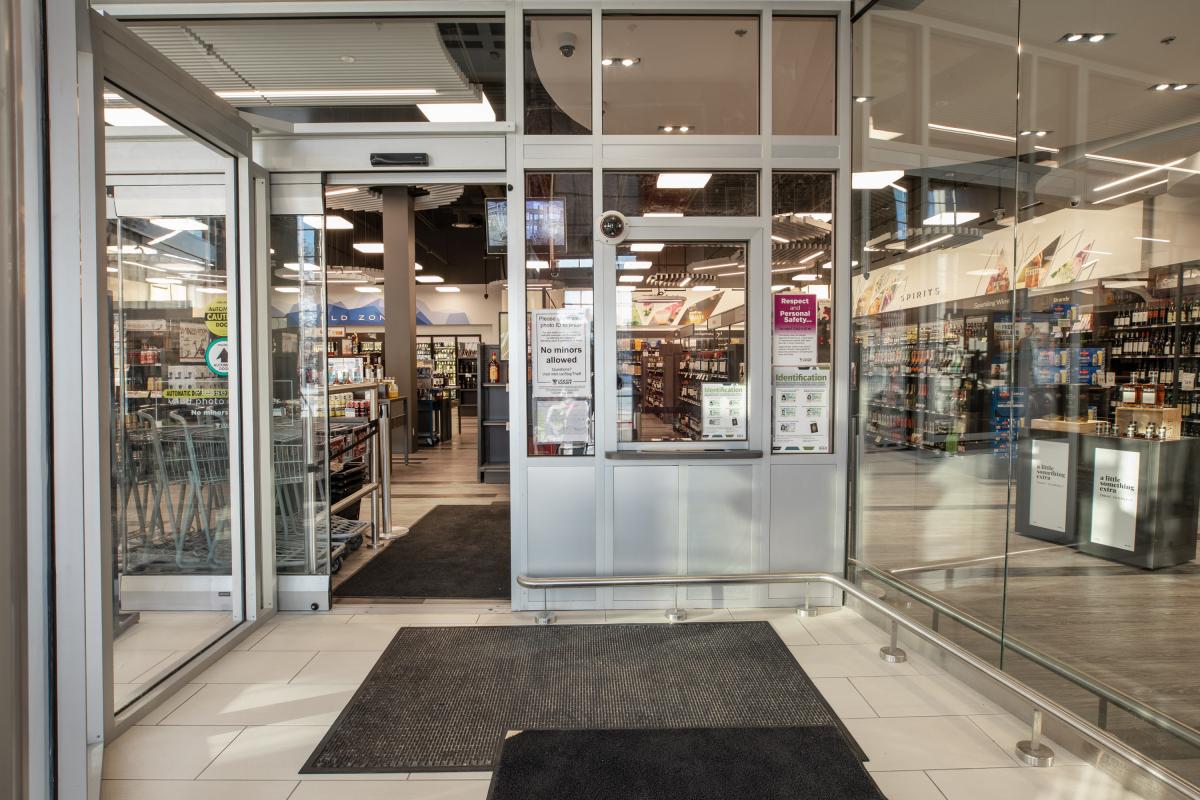 The same forms of ID that are already accepted for proof of age are accepted for entry at the controlled entrance. These include:
Driver's Licence issued in Manitoba or another jurisdiction 
Manitoba Identification Card 
Secure Certificate of Indian Status 
Manitoba Métis Federation Citizenship Card
Canadian Armed Forces Identification Card 
Firearms Possession and Acquisition Licence 
Passport issued in Canada or another jurisdiction 
NEXUS Card 
Alternatively, any two valid pieces of government-issued ID are accepted for entry, one of which must be photo ID. Examples include:
Certificate of Indian Status 
Certificate of Canadian Citizenship 
Canadian Permanent Resident Card 
Provincial Health Card 
Birth Certificate 
Veteran's Service Card
Please note that valid, original, ID documents are required for entry. Representations such as photographs, scans and photocopies will not be accepted.
Yes. Since their installation, robberies have been virtually eliminated and thefts have plummeted from hundreds each week down to a handful. Surveys and feedback show employees and customers agree with our approach and are strongly in favour of maintaining a safe working and shopping experience.
Manitoba Liquor & Lotteries has not increased its markups (our portion of the retail price that generates revenues) in response to thefts or the cost of installing controlled entrances. Any price increases customers may see are a result of regular price changes implemented by the liquor suppliers.
When we scan your ID, we are making sure your photo ID is legitimate (not fake), valid (not expired), and that you are 18 or older.
Section 36 (1)(c) of The Freedom of Information and Protection of Privacy Act (FIPPA) allows Manitoba Liquor & Lotteries to collect information for purposes such as exclusion from the premises to protect staff or property, crime prevention, and law enforcement.
Manitoba Liquor & Lotteries has continued to ensure full compliance with all privacy related legislation and has worked closely with the Manitoba Ombudsman's office since the outset of the controlled entrance program. This has included the submission and review of a Privacy Impact Assessment.
Information is automatically uploaded to a server in Calgary, Alberta.  The information is encrypted and access to it is restricted. Unless required by law enforcement, information collected is never shared with a third party. Liquor Mart staff do not have access to the stored information.
If an incident occurs at a Liquor Mart, information may only be retrieved by designated members of our Corporate Security team.
Manitoba Liquor & Lotteries' Corporate Security department manages access to the data stored with Patronscan. When an incident occurs at a Liquor Mart, information can only be retrieved by designated members of the Corporate Security team.
We take protection of privacy seriously. Your information is collected and stored according to the Manitoba Ombudsman's privacy guidelines. We use industry standard encryption.
Unfortunately, without valid ID you won't be able to enter any Liquor Mart that has a controlled entrance. We understand that some people don't have ID and are not used to needing it to buy liquor. For those customers, the most convenient form of valid ID to obtain is likely a Manitoba Identification Card. This is not a driver's licence. Visit MPI's information page on identification cards.
If you still have questions or concerns about what forms of identification are accepted at controlled entrances, please send us a message.
For more information on our privacy policy and who you can contact regarding your personal information, please visit our
Privacy Policy
page on this site.