Concerned about your gambling?
If you or someone you care about is experiencing a problem with gambling, these organizations may be helpful:
Online
Addictions Foundation of Manitoba (AFM): AFM provides professional counseling services free of charge if you or someone you know has a problem with gambling.
Community Financial Counseling Services (CFCS): CFCS can help if you are having difficulties managing your finances due to a gambling problem.
Gambler's Anonymous: A 12 step self-help group that can support you if you want to stop gambling.
Gam-Anon: A 12 step self-help group that can support you if your family member or friend is having problems with gambling.
GamTalk: GamTalk is an online discussion and support community that can help you if you have gambling concerns.
By phone
The Problem Gambling Helpline provides help 24 hours a day, 7 days a week: 1-800-463-1554
Voluntary Self-Exclusion
What is the Voluntary Self-Exclusion Program?  
If you are experiencing difficulties associated with gambling, the Voluntary Self-Exclusion (VSE) program may be a good first step to help you regain control.
The VSE program supports your decision to take a break from gambling at premises owned or operated by Manitoba Liquor & Lotteries, on PlayNow.com, or both. You choose the amount of time that is right for you and make a commitment not to enter or gamble at any of the included sites until you conclude your VSE. We understand the difficult decision you are making and have practices in place to support your decision. However, despite our best efforts, there should be no expectation that we will be able to identify you or prevent you from gambling should you enter one of our gaming facilities or PlayNow.com. It is your responsibility to honour the commitment you made to the self-exclusion program.
If you are worried about someone who you believe is struggling with gambling, it is understandable you may want to enroll them in the program, however, only the person seeking self-exclusion can enroll. No one can make that decision for them.
Support services are available in Manitoba for individuals that would like to change how they approach gambling. Our Informed Gambling Advisor(s), located at the Informed Gambling Centre(s), would be happy to discuss these with you. You can also learn more about support services above/below on this page. (InformedGambling.ca is above, mbll.ca is below).
Where and How Long is the VSE Program?  
Enrolling in person in the VSE program means you make a commitment not to enter any of the following gaming premises:
Club Regent Casino and the Event Centre
McPhillips Station Casino
Shark Club Gaming Centre
You are also not eligible to gamble on PlayNow.com for the duration of your exclusion.
When you enroll on-line, you make a commitment not to access PlayNow.com, only. It does not apply to the gaming premises.  
The length of the exclusion period is flexible and is up to you. Your options include: 
6 months
1 year
2 years
3 years
To officially end your VSE and be eligible to return to a gaming facility or PlayNow.com, you will need to complete the Pause and Plan information course. Only after this course is completed will your VSE enrollment period be concluded.
How Do I Enroll?  
To enroll in person at Club Regent Casino or McPhillips Station Casino visit the Informed Gambling Centre(s), speak to Casino Security or a Casino Operations Manager. To enroll off-site call 204-957-2500 ext. 8468.
You will be asked to present government-issued photo identification that includes your signature, to sign an agreement, and have a photo taken. If you are a Club Card member and your points meet a minimum requirement, they will be converted to a gift card.
To enroll on-line for PlayNow.com, only, log-in to your account. Within the "My Account" section choose "Self-Exclusion". The screens will guide you through the process. Your account will be cancelled, and any unredeemed player cash will be paid out.
Once you enroll in the VSE program, you will no longer have loyalty memberships and privileges. We cannot promise to exclude you from all marketing materials, however, we will do our best to ensure that you will not receive further marketing communications or coupons.
What Happens If I Break My Commitment?  
Our security team has processes in place to help identify individuals enrolled in the VSE program. If you enter gaming premises before you have fulfilled the requirements to end your self-exclusion, and you are identified, you will be asked to leave.
Despite our best efforts, there is no guarantee that we will be able to identify you or prevent you from gambling should you enter the gaming premises or access another account on PlayNow.com. Any money played or lost during your self-exclusion will not be returned to you. 
How Can I Access Support?  
Participating in counselling along with a VSE program increases the likelihood of successfully regaining control of a problem with gambling. We encourage you to learn more information about gambling treatment and support in Manitoba by calling the Gambling Helpline at 1-800-463-1554.
Ending Your Voluntary Self-Exclusion
There are three steps to conclude your voluntary self-exclusion:
Complete the free of charge information course, Pause & Plan: After Your Voluntary Self-Exclusion Ends.  www.mbll.ca/pauseandplan. The course will help you develop a plan to return to gambling, if that is what you choose.
After you've completed the course, write a letter to Manitoba Liquor & Lotteries requesting to return.  You may submit your letter, signed by you in one of two ways:
By Mail  
Corporate Security  
Manitoba Liquor & Lotteries  
1390 Pacific Avenue  
Winnipeg, Manitoba  R3E 3R9  
Be sure to include your return address.  We cannot process your request without it.
By Email  
VSE@mbll.ca  
A signed letter is required. Scan your letter and send with your email as an attachment.
Please allow approximately one business week for processing.
3.Wait for acknowledgment from Manitoba Liquor & Lotteries that your letter was received and accepted.  Once received, you may re-enter the gaming premises and/or register for an account on Playnow.com.
General Information:
It will take approximately 2 hours to complete this course.
High speed internet is required.  The course is not designed for tablets or smartphones.
You need to create a username and password. Record this information somewhere safe, as it cannot be recovered if you forget it.
You do not need to complete the course at one time. You may save your progress and with your password you can return to the site within 30 days.
After 30 days of inactivity your username will expire. You will then need to create a new username and start the course from the beginning.
Trouble-Shooting:
Chrome is the preferred browser to view all content.
While taking Pause and Plan, each information box and activity must be reviewed and completed in order to proceed to the next page. If you receive the following error please ensure you have clicked on every picture, box, text, and link etc. on the page.
Image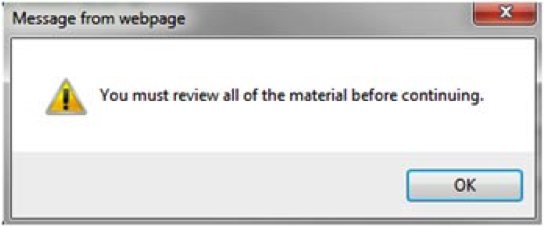 If you experience trouble seeing some of the content you may need to allow browser pop-ups.
If you have a technical question about the course, email VSE@mbll.ca.  The email is monitored during corporate business hours.